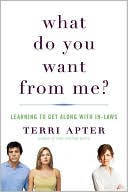 What Do You Want From Me
Learning To Get Along With In-Laws
Norton.
When we marry, we believe the bond is between only two individuals. Few of us realize the power that inlaws will exert over our lives. But the in-laws we acquire when we marry affect our quality of life-our marriage, family, personal comfort, and long-term well-being-for better or worse. What Do You Want From Me? takes a fresh look at the age-old problem of managing conflict with in-laws, offering practical help for dealing with problems that are both immediate ("How do I deal with my in-laws now?") and strategic ("How can I change the nature of my in-laws' demands?"). Terri Apter, a psychologist whose books on family dynamics have received international acclaim, draws on nearly two decades of psychological research to pinpoint the sources of tension between in-laws and explore the ways in which we can build healthy relationships with the in-laws in our lives.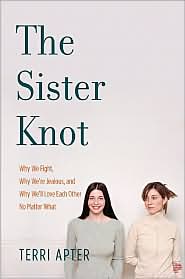 The Sister Knot
Why We Fight, Why We're Jealous, and Why We'll Love Each Other No Matter What
Norton.
Relationships between women are often freighted with a rocky mix of emotions--devotion and disregard, affection and loathing, admiration and envy--leading to anguish and confusion on the playground, in the home, and in the boardroom. A woman's experience negotiating her layered feelings toward a sister shapes her psychology as forcefully as do her relationships with her parents. By exploring sisterhoods, Terri Apter reveals their key role in understanding all relationships among women. In a series of compelling interviews, Apter considers the many aspects of the sister relationship from birth through adulthood. The need to fight to differentiate oneself from a sister, as well as the protectiveness one feels for that same person, is explained by reference to extensive psychological and biological evidence. Not only women with sisters will be enlightened by this original book: The Sister Knot sheds light on all relationships between women.

Secret Paths
Women in the New Midlife
Norton.
Drawing on detailed interviews with women in their forties and fifties, Apter finds that women in midlife undergo a series of changes through which they gain a newly powerful sense of their own identity. She sees midlife as a time where women gain greater control over their decisions and a strengthened sense of their potential. Whereas other writers have seen midlife for women as a time dominated by biological changes associated with menopause, Apter looks at midlife passage through women's psychology. She debunks the myths associated with women's fear of aging and decreased attractiveness. Whereas once this was thought to cause anxiety and depression, Apter finds that women deliberately negotiate an acceptance of who they are physically, and resist cultural images that marginalize them. This resistance can be a starting point for greater freedom. While "midlife crisis" for some men is associated with a last-ditch attempt to hold on to their youth, for women it is an attempt to refocus their energies for the future.
Secret Paths is a must for every woman's journey into midlife and beyond.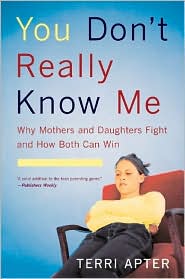 You Don't Really Know Me
Why Mothers and Daughters Fight and How Both Can Win
Norton
Ask any mother of daughters: the only thing tougher than being an adolescent girl is being her mother. Terri Apter, a professor of family dynamics and author of Altered Loves: Mothers and Daughters During Adolescence, once again explores the rough terrain of mother-daughter relationships. She does this by including actual mother-daughter conversations along with her theories. She finds patterns in teenage behavior and strategies to deal with them, although she warns against too much theory and asks mothers to remember their own adolescence and relationship with their mothers. Rather than viewing teenage rebellion as an attempt to leave one's mother, Apter sees it as an attempt by daughters to relate to their mothers in a new way by making their mothers see them as the young adults they want to be. Though some of the advice mothers know intuitively (for example, wait until you are both calm before trying to finalize a solution), it is sound. Perhaps the most important observation Apter makes is that daughters are not trying to make their mothers crazy or to reject them, but instead are trying hard to define themselves. Understanding that daughters' harsh judgment of their mothers ("I hate the way she breathes") is based on the closeness that makes them aware of every aspect of their mothers' being doesn't make it any easier to accept, but it may make it easier to understand. Apter also looks at the relationship of middle-aged mothers with their own mothers, which usually becomes one of appreciation--a note of hope for any mother of a 15-year-old. Although the book is written more as a narrative than a self-help tome, the author's credentials and experience lend credibility to herwork.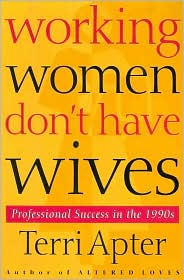 Working Women Don't Have Wives
Professional Success in the 1990'S
St. Martin's Press, Inc.
Many working women feel that their lives would be much easier if only they had a traditional "wife" figure at home. Unfortunately, rarely does such a situation exist. But how are women today actually handling the dilemmas created by their dual needs? What compromises and conditions are necessary to allow women to realize their full potential? Can women ever expect to succeed in a male-dominated society? How does this affect their children? Terri Apter, acclaimed author of Altered Loves, examines the pressures on today's working women as they try to balance the responsibilities of marriage and childcare with the growing demands of the workplace. Blending over 100 interviews with working women into her analysis, Apter shows how the myth of the "superwoman" masks the problems that real women must face. In chapters such as "What Do Women Want?", "Why Do Women Mother?," and "Having it All: New Options, New Myths," Apter shows how increasing working hours and decreasing job security have presented today's working women with a new set of conflicts. She also makes the point that women who succeed in combining the best of both worlds do so only by changing patterns at work and home. This important book should be read not only by all working women but also by anyone concerned with this increasingly problematic issue.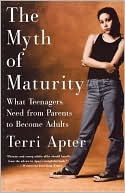 The Myth of Maturity:
What Teenagers Need from Parents to Become Adults
Norton.
What do young people at the threshold of adulthood really need and want? Why do so many responsible and motivated teenagers become young adults who are still dependent, financially and emotionally, on their parents? Why are many young people today so quick to leave childhood behind, but so slow to become adults? In this wise and compassionate book, Terri Apter debunks outdated and misguided ideas about maturity: Acting in the name of love, many parents withdraw emotional or practical support, thinking it best for a son or daughter to solve his or her own problems—even to suffer alone the consequences of mistakes. Apter shows us that young adults actually need a parent's guidance and support, while also requiring respect and independence. Based on carefully observed case studies and current research, this book describes how we can support young people through a crucial stage in their development.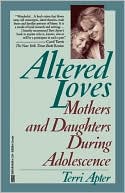 Altered Loves
Mothers and Daughters during Adolescence
Ballantine.
Altered Loves is a frank, moving and insightful examination of girls' adolescence and their continuing, but changing needs for a close relationship with their mothers. The strife that characterizes this period is actually the result of trying to renegotiate a valued relationship.
Widely acclaimed, and chosen by The New York Times Book Review as One of the Notable Books of the Year, Altered Loves explodes conventional myths and theories about mother-daughter relationships and offers new and valuable insights that will help mothers remember and daughters understand the delicate, painful and complex process of becoming a woman.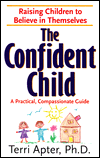 CONFIDENT CHILD
RAISING CHILDREN TO BELIEVE IN THEMSELVES A COMPASSIONATE, PRACTICAL GUIDE
Bantam.
Raising confident, motivated, and caring children is a parent's greatest challenge. Children who believe in themselves and have confidence are known to experience future successes, to be less frustrated in learning, to show overall higher performance. This sage compassionate and practical guidebook shows parents how to help their children acquire self-esteem building skills and offers parents a plan for learning how to discipline, communicate and deal with their children's emotional life.
In an accessible style, with down-to-earth examples of children's lives in the family and in school, Terri Apter shows parents how to raise a child to solve problems, to be socially active and understand others, to express feelings appropriately, and to manage emotions - all of which are crucial skills in developing confidence.
Every parent and caring adult should own a copy of this necessary parenting guide.
A Literary Guild and Doubleday Bookclub choice.
Winner of the 1998 Delta Kappa Gamma International Educators' Award.